Noam Galai/Getty Images Entertainment
investment thesis
There are many things we like about UiPath (PATH). Notably, it's the undisputed robotic process automation (RPA) leader. Moreover, it has a viable path to profitability and is still expected to grow fast. Nonetheless, we weren't comfortable with its valuation when we published our previous articles in October and December, respectively.
However, UiPath stock also underwent significant value compression as its SaaS peers were buffeted; we think its valuation seems much more reasonable now. RPA is benefiting from secular drivers supporting the digitization efforts of its enterprise and industrial customers.
Therefore, we think the time has come if you have been waiting to add PATH stock.
Why Did UiPath Stock Drop?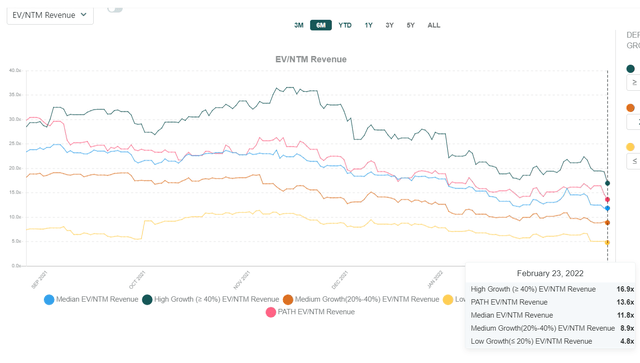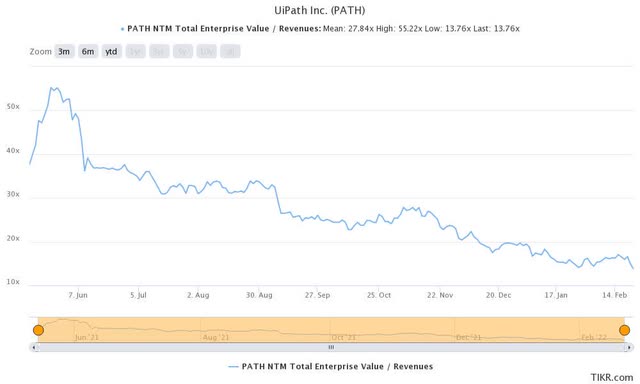 Readers can glean from the first chart above to observe the evident value compression in the SaaS space. In addition, the valuation of its high-growth SaaS peers has also been hit dramatically, thus affecting PATH stock.
Furthermore, the second chart shows that UiPath stock traded close to 30x NTM revenue in November. That was markedly higher than its peer median of 21x back then. Thus, we think the drop in PATH stock was due to its "unsustainable valuation," exacerbated by the collapse in the valuation of its peers.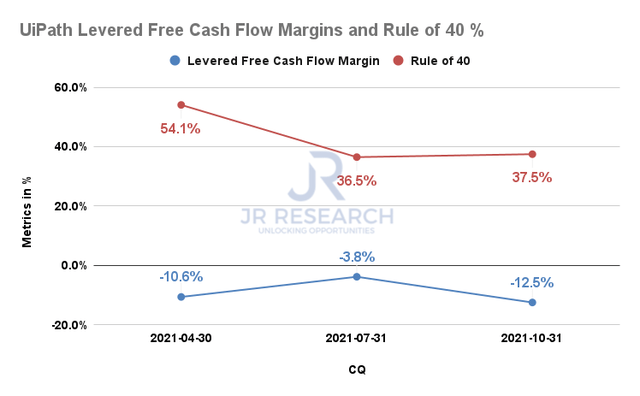 Furthermore, UiPath doesn't have the most "pristine" FCF margins we can ask for. The company continued to report negative FCF margins that were significantly affected by its weak GAAP operating margins. Consequently, its rule of 40 was also below the threshold for the last two quarters. Given its premium valuation and its relatively weak FCF metrics, the stock was justifiably punished, in our opinion. It just didn't deserve its premium valuation.
UiPath Key Operating Metrics
Nonetheless, there are several underlying themes that we like about UiPath. We discussed previously that IDC MarketScape recognized the company as the RPA leader in its field. Macquarie also weighed in (edited):
UiPath is the best-of-breed pure-play automation platform vendor. The best-of-breed automation platforms with multi-modal automation philosophies will continue to act as consolidators, absorbing technologies such as RPA, task mining, process mining, and more to create multi-modal automation platforms.
Furthermore, UiPath has been aggressively expanding its enterprise partnerships. Notably, RPA investors should understand that PATH will play an even more critical role moving forward in helping industries and enterprises automate. Its use cases and scope will continue to accelerate, not decelerate. It's not only underpinned by the secular digitization trend but also the "unprecedented job losses" in manufacturing. UiPath highlighted (edited):
Automation is critical to helping the industry cope with unprecedented job losses. According to a study by Deloitte and The Manufacturing Institute, the manufacturing skills gap in the US could result in 2.1M unfilled jobs by 2030. The cost of those missing jobs could potentially total $1T in 2030 alone. (UiPath)
Deloitte also elaborated on how the COVID-19 disruption has accelerated the digital transformation in manufacturing. Notably, digital adoption has encouraged companies to "redesign job tasks, and automating previously manual tasks." Therefore, we believe there's tremendous visibility into the quality of UiPath's revenue runway.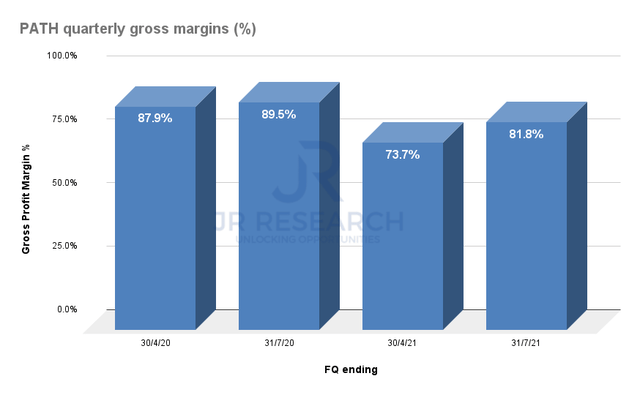 Furthermore, UiPath continues to command premium pricing power. Readers can glean from the above chart to observe its superior gross margins profile. Therefore, we believe that the company has a viable strategy in leading the market. Moreover, it's a well-recognized leader in its field. So, we think that it should continue to lead its peers.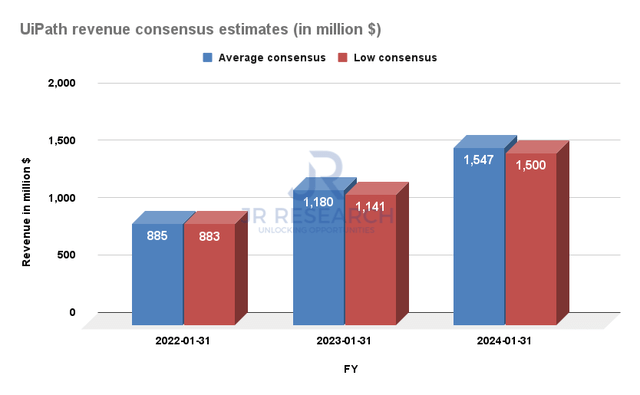 Furthermore, we can also glean that consensus estimates are essentially in sync between the average and the most pessimistic estimates. We believe it demonstrates the Street's strong confidence in UiPath's revenue quality. As a result, investors can afford higher credibility to UiPath's growth cadence as it charts its path towards profitability. While the company has not been calibrated for GAAP profitability yet, we should expect its FCF metrics to continue improving moving forward.
Is UiPath Stock A Buy, Sell, Or Hold?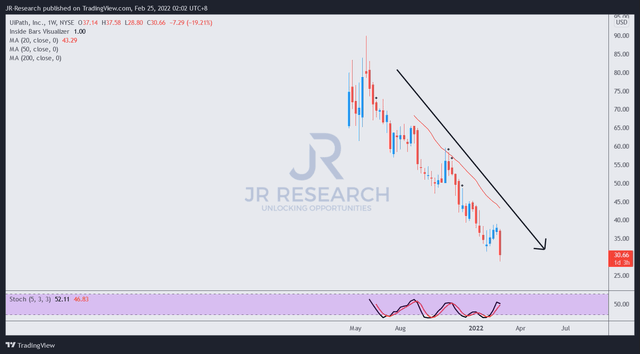 As explained earlier, we believe that UiPath stock seems to be in the buy zone now. Moreover, it's trading in line with its high-growth SaaS peer median. Therefore, the significant premium observed over its valuation previously seems to have been digested.
Nevertheless, we need to emphasize two caveats here for investors. First, PATH stock is still in a clear downtrend that doesn't seem to have found a bottom. Therefore, if you enter a position, you can consider adding in phases. However, it's impossible to know where the bottom is.
Furthermore, we continue to observe continued insider sales as its insiders continue to unload shares in UiPath. So if you prefer to bottom-fish, its price trend and insider transactions may not be constructive yet for PATH stock.
But, if you have at least a five-year horizon, we think its current price seems reasonable.
Consequently, we revise our rating on PATH stock from Hold to Buy.